Though not new in educational circles, tablets can serve a critical function in changing the way newly prepared teachers think about teaching, learning and designing learning environments and opportunities.  Laptops and netbooks, though small and portable, introduced challenges related to cost, operating systems, durability, and accessibility. There is a very real need to find a computing option for educational settings that eases some of these tensions and allows for widespread integration.  We suggest that the widespread use of tablets, based on a changing paradigm, the need for progressive teaching and learning, a growing need for instantaneous, robust communication, and an appreciation for how learning and teaching have changed, can indeed change the ways in which we teach and learn.
Before observing the candidates in the field, it is critical to give the students a sound basis for making tech-based decisions.  To do this, one must surround students with authentic experience and models of scenarios where the technological becomes a bridge between paradigms – putting theory into practice.  The use of the tablets in the teacher-education classroom was meant as a way for candidates to see a teacher using a progressive technology as a means for enhancing the teaching process, or streamlining the teacher workflow.  These dual purposes are central to the theory-to-practice transition and make for a very authentic understanding.  It is also important to note that the tablet was used by the teacher, not the students.  There were times when the students were handed the device as a means of participating, but the integration was largely used as a practical instrument to help organize and innovate teacher workflow and instruction.
A word of caution is needed.  Because the tablet was central to the teacher's work, it became critically important to be overt about what the teacher was actually doing.  Candidates easily slipped back into "student mode" not noticing the specific practices the teacher was using. Remember, these devices are very common in the lives of the "digital natives" but not something they are necessarily good at utilizing (Thompson, 2012). Providing running commentary and sidebars that highlighted the technological practices greatly improved the candidates' observations of technological practices, as well as their ability to see the need in their own teacher workflow for tablet-based enhancements.
Applications. Special consideration was paid to selecting applications to model and demonstrate during teacher-education classes.  Faculty members strove to highlight programs that enhanced the teacher workflow as opposed to just adding a novel tool.  While a number of applications were actively used, five in particular were most illustrative at enhancing teacher practice: Air Sketch and Air Scanner (by Qrayon, LLC), Splashtop Whiteboard (by Splashtop, Inc.), Mobile Mouse (by RPS Tech, Inc.), and Educreations (by Educreations Inc.).  Each one of these applications focuses on genres of teaching needs, and provides effective and innovative ways for meeting those needs. Note: the iPad versions of these apps are discussed below, but there are comparable Android-based apps that can facilitate the same experiences.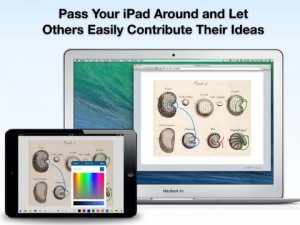 Air Sketch.  This application is the first of two that allows teachers to create an interactive whiteboard without the typical hardware associated with the task.  Using a Wi-Fi connection to a projected computer, Air Sketch allows users to project and interact with documents with the freedom and mobility offered by having an untethered device.  Teachers can freely circulate around the class while adding content to their tablets that their students can see when projected to a screen.  The teacher can also annotate documents as the class watches in real-time.  The range of documents supported by Air Sketch is quite large, but it was found to be most useful when conducting group editing, developing class lists, or annotating documents and notes as a whole class.  Faculty can leave the tablet with student teams so the rest of the class can view their work.  This program allowed for the modeling of collaborative computing and the benefits of interactivity that tablets provide.
As a downside, the app only allows you to view and annotate content that was opened by Air Sketch.  In other words, if Air Sketch is not open, nothing will be projected.  The tablet does utilize the screen mirroring AirPlay functionality (where one can mirror the tablet screen to an AirPlay enabled device), but unless one has an AppleTV connected to their projector, it is still limited in its impact.  Air Sketch provides the capability of wireless projection without the need for the AirPlay enabled device.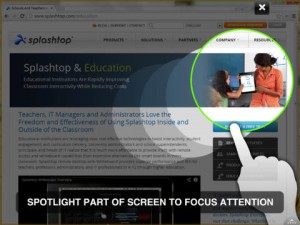 Splashtop Whiteboard.  This app combines the features of an interactive whiteboard (similar to Air Sketch above) with the power of a remote desktop client.  Remote desktop clients allow users to virtualize, or see, the desktop of another computer on their tablet.  While this may sound like a feature more designed for computer super-users, if one considers the layout of many school computing stations, its importance becomes clear.  Typical classrooms are plagued with the issue of having the teacher computer workstations located in the dark recesses of the classroom – not in the optimal locations for teaching.  A remote desktop client will allow teachers with this type of set-up to see and control their classroom computer from anywhere in the room.  And they are not limited to just the computer in the room.  These clients will allow you to access other computers as long as they are connected to the Internet is some way.  In addition, the teacher can make individual student computers viewable to the class in order to show exemplar solutions, give feedback, or even monitor acceptable usage.  Finally, teachers can remotely access information and files that are neither in the cloud, nor on the tablet itself.
Where Splashtop Whiteboard goes beyond just the remote desktop features is its ability to annotate anything on the screen.  Where Air Sketch was limited to annotating only the documents it could open, Spashtop Whiteboard provided the closest simulation to current interactive whiteboard (IWB) technology.  Faculty, who were accustomed to using IWBs in their teaching, found that this type of app on their tablets extended the IWB functionality by giving faculty the ability to move about the classroom – modeling effective management techniques that can be hampered by having to always be close to the IWB.  The ability to annotate everything on the screen also added depth to the app and gave faculty the freedom to pursue teachable moments that they may not have prepared for.
Students noted how the tablet-based IWB completely changed the dynamics of movement within the classes.  Students did not have to move to participate in interactive ways with the technology, the tablet came to them.  While management issues when traveling to and from the IWB are not prevalent in teacher-education classrooms, the students noted how important this aspect could be in the PK-12 setting.  Less time would be required for moving students to and from the IWB, and students could work as a small group or in clusters as opposed to doing their work "on stage" in front of the class.
As with Air Sketch, Splashtop Whiteboard requires the tablet to be connected to a projected host computer via Wi-Fi network.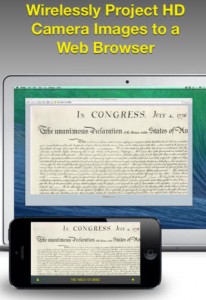 Air Scanner. This is probably the simplest of the five featured applications, but it fills in one of the greatest needs for educators. In the last 10 years, document cameras have become a near fixture in classrooms as educators strive to use authentic examples and student work as teachable moments for their students. The power of visualization and being able to enlarge intricate movements enhances a student's engagement and plays a critical role for visual learners. These devices have come down in price but present some instructional challenges. First, they are stationary. For it to be used, the teacher or student needs to move to engage the camera. While this is not always an issue, if distractions can be minimized, why not? Second, if a teacher wants to feature a student's work, your create an immediate distraction by having to take the document from them, go project it, and then return.
Air Scanner neutralizes both of the instructional/management issues above. The app is designed to use a Wifi network and the tablets camera to create a portable document camera. Teachers can connect the tablet wirelessly to the projected computer and walk around the room focusing the camera on the documents they would like to feature. The app also allows educators to freeze the image so they do not have to worry about staying in one place or keeping the tablet still. Teachers a full range in their classrooms and can highlight student work without it ever leaving their desk.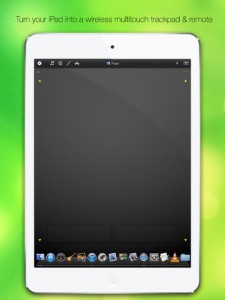 Mobile Mouse. Where Splashtop Whiteboard allows for full virtualization and control of a networked computer on the iPad screen, Mobile Mouse is a simple program that enables the teacher to convert their tablet device into a large trackpad through which a projected computer can be controlled.  The only image you will see on the tablet's screen is a dark grey background with two buttons that represent the right and left click buttons on a traditional mouse or trackpad.  As you move your finger across the tablet's screen, the cursor moves on the projected computer, allowing you to control it from anywhere in the room.  Mobile Mouse includes special features that are specific to the application running on the projected machine, i.e. web specific buttons when using an Internet browser (Home, Back, Forward).
This program was especially useful at showing candidates how they can merge existing (desktops) and emerging technologies (tablets).  Having the projected class computer in undesirable locations – typically in the back of the room, hampers many classrooms and many candidates cite this as a roadblock to their integrating technology into learning experience.  Mobile Mouse eliminates the issue of location and provides untethered access to the available technology – a simple yet elegant solution.
Educreations.  The meteoric rise of Khan Academy has highlighted educators' and students' interest in "flipping" the classroom.  Demonstrations and tutorials are nothing new, but the myriad ways and mobile means in which students can access them has challenged educators to explore what content is ripe for flipped environments.  As more and more educators are migrating into tablet spaces, the ways in which this flipped content is created have become increasingly important.  Traditionally, if one wanted to create a demonstration to be consumed online, some sort of screen capture software would need to be used to record the content on a computer, and a video hosting site would be required to post and distribute the finished video to students.  This is not a difficult process, but one that becomes problematic if your primary machine is a tablet.
Educreations incorporates both steps of this process into one simple app.  As a teacher, you can record yourself while teaching a concept.  The app features all of the bells and whistles you would come to expect from an IWB, but once you press record, it captures both the screen and your voice as you teach.  When finished, Educreations has also created a repository where you can upload and host your session for your student to access.  This collection of tutorials is very similar to the Khan Academy system, but teachers and students provide content.  This open access does allow for some less than accurate examples, but if you are developing a linking students to what you have created, the extraneous "noise" is not an issue.  In fact, many candidates found these counter-examples as useful for understanding common misconceptions by PK-12 students.
Though the ability to create and distribute flipped content on a tablet is a fantastic curricular tool, the true power of the app comes when the teacher hands the tablet over to the student.  Just as the app recorded all of the teacher's words and images, it too can provide wonderful insight into the ways in which students think through and solve problems.  Faculty rotated the tablet among groups and asked that they use the app and tablet to discuss and complete various critical thinking exercises.  Faculty could then return to the recordings to "see" how each group discussed and solved various issues.  Candidates saw these exercises translate into powerful learning examples in PK-12 settings.  From mathematics to social studies, candidates were able see, hear, and archive their students' problem solving, collaboration, and discussion skills.  Candidates saw a benefit to having an extra set of ears and eyes in each group to help promote on-task behaviors and illuminate possible misconceptions.
In my next post I will discuss the tablet tools we used to enhance the data collection/observation/reflection components of our teacher candidates field and students teaching experiences.