We want to express our sincere appreciation for welcoming us to IFSC! We had an amazing experience working with all of you and sharing ideas about how to engage each other and our students in collaborative and innovative learning environments. Seeing your passion for your work and experiencing your excitement in solving problems was very inspiring for the both of us. Your students are very lucky to have faculty like you and we are excited to watch your institution grow!
Below you will find a list of resources that should help you in your pursuit of implementing experiential activities into your coursework. I apologize that these resources are not in Portuguese, but many of the descriptions are very simple and can be translated easily.
Please never hesitate to contact us if you have any questions or would like to continue to share ideas for building innovative classroom cultures! We wish you all good luck and have a wonderful year!
Books
Today there are a lot of books on the market that provide excellent collections of games that can be used to foster innovative thinking, perseverance, and community with our students. I want to share with you four texts that I refer most often. My one hesitation with these books is that they do not far enough to connect these activities to tangible classroom skills, behaviors, or curricular integration. They are EXCELLENT resources from very talented professionals and can be used as an encyclopedia of activities. But much of the targeted training for classroom teachers and specific classroom/curriculum focus is not included.
To meet this need, I am currently writing a book with Dr. Herb Broda (Professor of Education) and Trevor Dunlap (Executive Director of Nuhop) that connects many of the activities we shared with you in a direct and explicit way for developing the kinds of skills and behaviors you want for your students. The book will serve as a way to train teachers to integrate these activities into their class work and curricular goals in meaningful and purposeful ways. I will be sure to let you know when the book is finished as it most closely relates to the work we presented at IFSC.
Books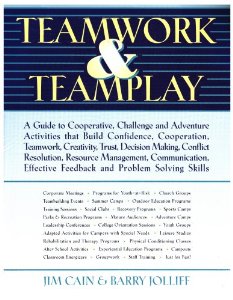 Teamwork and Teamplay: A Guide to Cooperative, Challenge, and Adventure Activities That Build Confidence, Cooperation, Teamwork, Creativity, Trust, Decision Making, Conflict Resolution, Resource Management, Communication, Effective Feedback and Problem Solving Skills – The title say it all! This book is typically seen as the experiential learning Bible. One of the authors is close friend of mine, Barry Jolliff, and includes a wide range of activities from small opening activities two very large and complex problem-solving experiences. You will find activities that utilize a range of materials and resources from non-all the way to advanced materials. The volume of activities in here can be overwhelming, but you will never be at a loss for coming up with something innovative and motivating to do with your students. The only issue is that you will need to have a clear vision for the purpose for each activity as there is not an overarching connection to specific skill sets pertinent to classroom success. You will need to develop the classroom language yourself.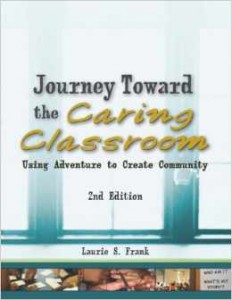 Journey Toward the Caring Classroom 2nd Edition: Using Adventure to Create Community – This book is the closest I have found that has explicit classroom connections. I have always appreciated the community building model that the author uses in this text. It is an excellent organizer for teachers thinking about using progressively more difficult activities with their students. It also emphasizes the need to start small and build community rapport through icebreaking activities. This is often the lost step for teachers. They jump right in with very advanced experiences for their students even when they have not given their students time to get to know each other. This can lead to awkward situations, unproductive relationships, and behavior that hurts as opposed to helps innovative thinking and collaboration. The sessions we facilitated for IFSC utilized a rough outline of this progression model.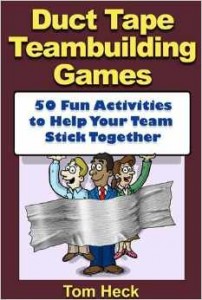 Duct Tape Teambuilding Games — 50 Fun Activities to Help Your Team Stick Together – I wanted to include this book not because it features new games, but because it features a new way to facilitate the games using one material – silver tape. As you look through the activities you will see that many of them are the same that have been featured in the teamwork books above, but he re-envisions the activities using this very simple element. I like this perspective because it reminds us as teachers that we do not have to use elaborate materials to prove a specific point for students. Many times our objective can get lost in the materials if they become too complex. I also included this book because he has an extensive YouTube channel that I will feature below that shows him playing many of these games with students.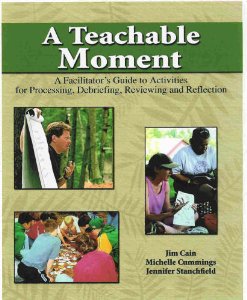 A Teachable Moment: A Facilitator's Guide to Activities for Processing, Debriefing, Reviewing and Reflection – One most critical elements for utilizing activities in the classroom is having teachers who are comfortable with and good at facilitating reflection and debriefing with students. This book features games that are much smaller in scale but push very specific questions and conversations within the classroom. Unfortunately the book is not oriented to the classroom, but you will be able to make many of those adaptations. I feel as though many of these activities have a specific mental focus as opposed to the physical elements that are featured in the books above. This can be a very good transition for the classroom as teachers need students to do more and more work focused on their specific content, yet utilizing the effective collaborative and innovative skills from these kinds of activities.
Web Resources
Silver Tape Teambuilding Games – This is an excellent resource for those of you interested in seeing many of these games demonstrated. This particular channel coincides with the book above. It features video demonstrations for all of the activities in the silver tape book. One thing to remember is that these activities can be completed with materials other than tape.
Training Wheels – Michelle Cummings has created an excellent web portal for people interested in utilizing experiential learning. Her site is her business so there are a number of features that require membership or payment. That said, she is also a place where you can find some hard to locate team building materials that you may read about or see in some of the books above. I have always found her to be very willing to talk and share ideas over the phone.
Wilderdom – There is so much to this website! It is easy to get lost in all of the content so I would encourage you to explore a couple specific areas: the Index to Group Activities & Games as well as the Experiential Learning section. The Index provides a wealth of activities in a clickable easy to use format. Depending on the game there can be extensive facilitation notes and descriptions as to how to implement into various settings. Unfortunately, this again does not have as clear and explicit of a connection to the classroom world as I would like for teachers to have. Nonetheless, there is a lot here for you to use. In the Experiential Learning section your faculty will find a good accumulation of research related to outdoor and experiential learning. I find this to be a very important factor for teachers in their willingness to implement this type of learning in their classrooms. Teacher want to see a deep connection to theory so that their practice feels informed and purposeful, not just a fun gimmick.
This is by no means a complete list of resources, but a good place to start when looking to develop an experiential program for one's classroom. Please let me know if further resources are needed. We look forward to staying in contact with the wonderful faculty at IFSC! Keep playing!